New Minimum Wage Passed in New Jersey
Feb 8, 2019 | Written by: Richard P. Cushing, Esq. | Share
On Feb. 4, 2019, a new minimum wage law was passed that will eventually raise the minimum wage in NJ for most workers to $15.  For the first time the NJ minimum wage has been applied to municipalities and other government agencies. 
The New Jersey League of Municipalities provided the following synopsis of the law:
"A-15/S-15 would gradually increase the minimum wage over several years, with the goal of getting to $15 per hour for most workers by the beginning of 2024. The first increase to $10.00 per hour would take effect on July 1, 2019, and then go up again to $11.00 on January 1, 2020.  It will increase by $1.00 every year thereafter until January 1, 2024.  After reaching $15 per hour, the minimum wage will continue to rise by the rate of inflation, as required by the State Constitution. The bill provides for a slower phase-in period for employees of small employers, and seasonal workers, reaching $15 in 2028. 
 
Until Monday, the state minimum wage law only applied to private business and did not apply to state or local governing bodies. (See Allen v. Fauver 327 Super. 14 (App. Div. 1999)). These entities did need to comply with the federal minimum wage law.  However, as noted above, new language explicitly applies the state minimum wage law to the state, counties, municipalities and school districts."
Gebhardt & Kiefer will provide more details on the law in the near future.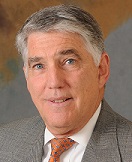 Richard P. Cushing, Esq., is a senior partner with Gebhardt & Kiefer, PC.  He is a trial and municipal lawyer who specializes in complex litigation, land use matters, employment law, and the representation of public entities, corporations and insurance companies. Contact Mr. Cushing at 908-735-5161 or via email.