Print This Page
Celebrating Our 135th Anniversary
In celebration of our 135th anniversary in 2019, we planned a year-long initiative of giving back to our local community.  We wanted to make a positive difference in the community that has supported us and made our success possible over the past 135 years.
Each month during 2019, we contributed 135 needed items to a charitable organization serving our area.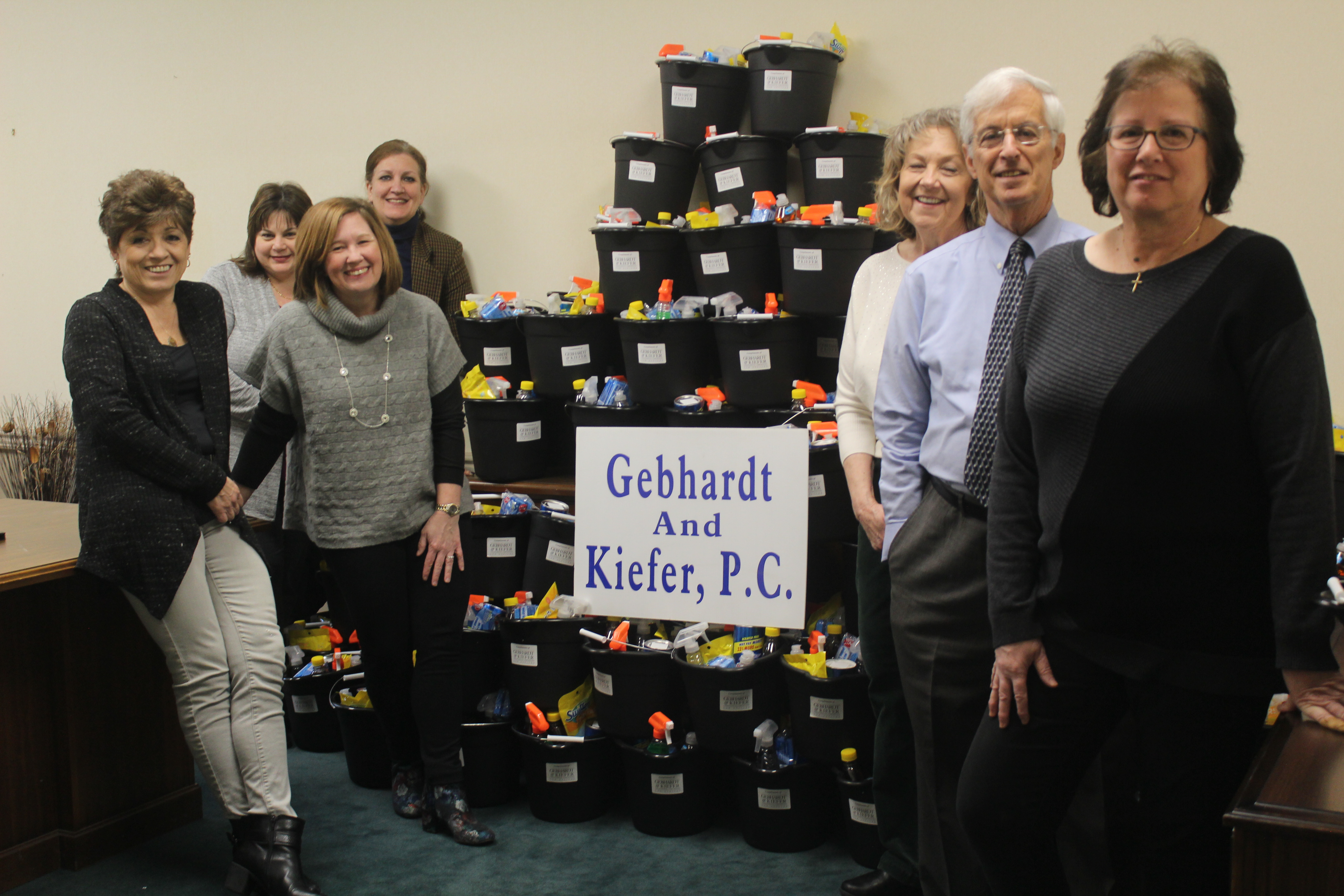 In January, we kicked off our anniversary celebration by donating 135 buckets of household cleaning supplies to Fisherman's Mark Food Pantry in Lambertville. The Food Pantry provides food, health and household supplies to local residents in need. The buckets were assembled by volunteers from our staff and presented to Jennifer Williford, the Volunteer Coordinator at Fisherman's Mark, on January 25.
In February, we donated 135 packs of diapers to the United Way of Hunterdon County's Diaper Bank. The Diaper Bank helps to ensure that local families and individuals have an adequate supply of infant diapers and adult incontinence products.  It also raises community awareness about the need for these products and advocates for policy reform to include infant diapers and adult incontinence products as a "basic human need" for families in Hunterdon County. Accepting the donation on behalf of the United Way was Caroline Scutt, Communications & Community Impact Director.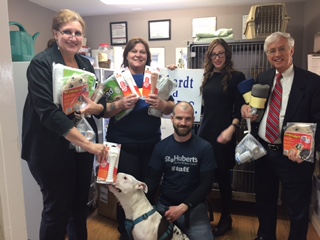 In March, we donated 135 animal care items to St. Hubert's Animal Welfare Center in North Branch.  The assortment of items included pet bed mats, pet bed heating pads, throw blankets, kitten milk replacer, and many flavors of extra-large durable dog chews. Accepting on behalf of St. Hubert's were Center manager Pam Fyfe, Bryan Phoden, and Rocco the dog.
In April, we donated 135 ten-dollar ShopRite gift card to the Dr. Orlie Pell Fund for distribution to Hunterdon County residents in need.  The gift cards will be distributed by the Hunterdon County Division of Social Services and will be designated for use during emergent times, such as when the local food pantry is closed.  The mission of the Dr. Orlie Pell Fund is the help County residents in financial crisis who are not eligible for other public assistance programs. Susan Hoffman, president of the Dr. Orlie Pell Fund, accepted the gift cards along with Wayne Hunt, Treasurer, Susan Nekola, Division Head of Social Services, and Barbara Sabo, Secretary.
In May, we donated 135 bundles of personal care items to Family Promise of Hunterdon County. The bundles included 135 bottles of laundry detergent, 135 tubes of sunscreen, 135 bottles of hand soap, 135 tubes of body lotion, 135 bottles of acetaminophen, 135 bottles of ibuprofen, and 135 boxes of bandages.  In addition to serving as a homeless shelter, Family Promise advocates for homeless families and individuals and guides them to self-sufficiency and permanent housing by mobilizing the community to provide compassionate care, services and professional support.  Accepting the donation on behalf of Family Promise were Board Chair Maggie D'Aversa and Executive Director Angela Fields, along with Josy Ketenbaum and Pam Nemeth of the Flemington Jewish Community Center, one of the host congregations that assists Family Promise in providing temporary shelter for homeless individuals and families.
In June, we donated 135 movie theater tickets to the ARC of Hunterdon County.  The tickets will be used by the ARC's Recreation Department as part of its activity program, which offers a variety of social events to help those it supports develop social skills, increase self-esteem, and build friendships, while also providing respite for family members.  The ARC supports and empowers individuals with intellectual and developmental disabilities and their families, and helps these individuals to live and work in the community on their own terms as proud, vital members of society.  The tickets were presented to the ARC of Hunterdon County Executive Director Jeff Mattison on June 26.
In July, we sponsored 135 ducks in the Clinton Sunrise Rotary's "Great Rubber Ducky Race."  The annual event, held this year on July 14, benefits the American Cancer Society and the Cancer Support Community of Central NJ.  Gebhardt & Kiefer presented a check for the entry fee for 135 ducks to Lynn Arnold of the Clinton Sunrise Rotary.  We also pledged that, should one of our ducks win the first-place prize of a Walt Disney vacation or the second-place prize of a $500 travel voucher, we would donate the prizes back to the Rotary, which would then donate the cost of the prizes to the cancer charities.
In August, we donated 135 backpacks filled with school supplies to the United Way of Hunterdon County's "Tools 4 School" program.  Gebhardt & Kiefer staff presented the backpacks to Bonnie Duncan, CEO, and Amy Andersen, Volunteer Engagement Manager for the United Way of Hunterdon County on August 2.  The Tools 4 School program provides backpacks and school supplies to many Hunterdon County students who might otherwise not be able to purchase these items.
In September, we donated 135 bales of second-cutting hay to Riding with Heart.  Gebhardt & Kiefer president Mark Chazin and partner Jake Papay presented the hay bales to Riding with Heart program manager Carla Harbourt on September 19.  The donation will help to feed the organization's eleven horses.  Riding with Heart is an equine-assisted therapeutic riding center that provides a safe, progressive, therapeutic environment to persons who are physically, emotionally or developmentally challenged.  The center offers adaptive therapeutic riding, hippotherapy, and equine-assisted learning, as well as a social skills program for children with autism and learning disabilities.
In October, we donated 135 coats to the Hunterdon County YMCA's winter coat drive.  Gebhardt & Kiefer employees personally collected 80 coats and the firm supplemented that by purchasing 55 new coats to reach the total of 135.  The YMCA will distribute the coats to community members in need on November 16 at the United Way Volunteer Center in Flemington.
In November, we donated 135 pineapples, 135 bottles of laundry detergent, and 135 bags of sugar to the Delaware Valley Food Pantry in Lambertville. Gebhardt & Kiefer senior partners Richard Cushing and Leslie Parikh presented the items to the Food Pantry's Director of Operations/VP, Joe McGrath, on November 19. According to McGrath, fresh pineapples, sugar and laundry detergent are among the Pantry's most requested items. 
In December, we donated 135 toys and games to the Salvation Army Flemington Corps' holiday toy drive. The toys were presented to Salvation Army Lieutenant Amanda Boynton on Dec. 13 for distribution to area families whose children might not otherwise have gifts to open during the holidays.